STJECANJE ZNANJA I POŠTIVANJE ODNOSA KOJI NA TOM PUTU NASTAJU
Ključne riječi:
Znanje, sticanje znanja, učenik, učitelj, poštivanje, knowledge, attaining knowledge, teacher, regard
Sažetak
UDK 28-23
         28-254
U svakom vremenu i na svakom prostoru znanje predstavlja jednu od najvećih Allahovih blagodati za čije traženje su vjernici imperativno pozvani kroz dva osnovna izvora islama: Kur'an i Hadis. Znanje je bogatstvo i moć. Prema učenju islama, ono je ibadet koji, ako je popraćen ispravnim nijjetom, na visok pijadestal ovog i onog svijeta postavlja njegove nositelje – učene ljude. Autor kroz ovaj rad nastoji progovoriti ponajviše o odnosima koje stjecanje znanja stvara dvosmjerno, s obzirom na to da taj proces nije nikada bio jednosmjernog karaktera. U tom smislu autor ističe da je riječ o sljedećim odnosima: odnosu učenika prema učenju i naučenom kao i prema onima koji mu pomažu na tom putu; odnosu prema učeniku i odnosu prema učenim ljudima neovisno o oblasti kojoj pripadaju. Kroz odabrane ajete i hadise autor ukazuje na ispravno poštivanje tih odnosa, ali i na pogubnost njihovog nepoštivanja.
Summary
In all times and regions the knowledge is one of the greatest blessings of Allah and the pursuit of knowledge is an imperative for all the faithful prescribed in two fundamental sources of Islam: Qur'an and the Hadith. Knowledge is a fortune and the power. According to the teachings of Islam it is also a form of ibadat, which if joined with correct intentions, places the pursuers of it, the learned, upon a very high pedestal in this world and in hereafter. In this article the author attempts to relate about the two-ways relations that emerge in the journey of attaining the knowledge since it is a process that can never be of one-way character. In this regard the author stresses: the relation of a student towards learning and towards the object of learning as well as his relation towards those who assist him in that path; relation towards the learner and towards the learned regardless of the particular field of their learning. The author presents a selection of the ayahs from the Qur'an and the Hadith which teach us how to properly regard these relations and warn us of ill consequence if we fail to do so.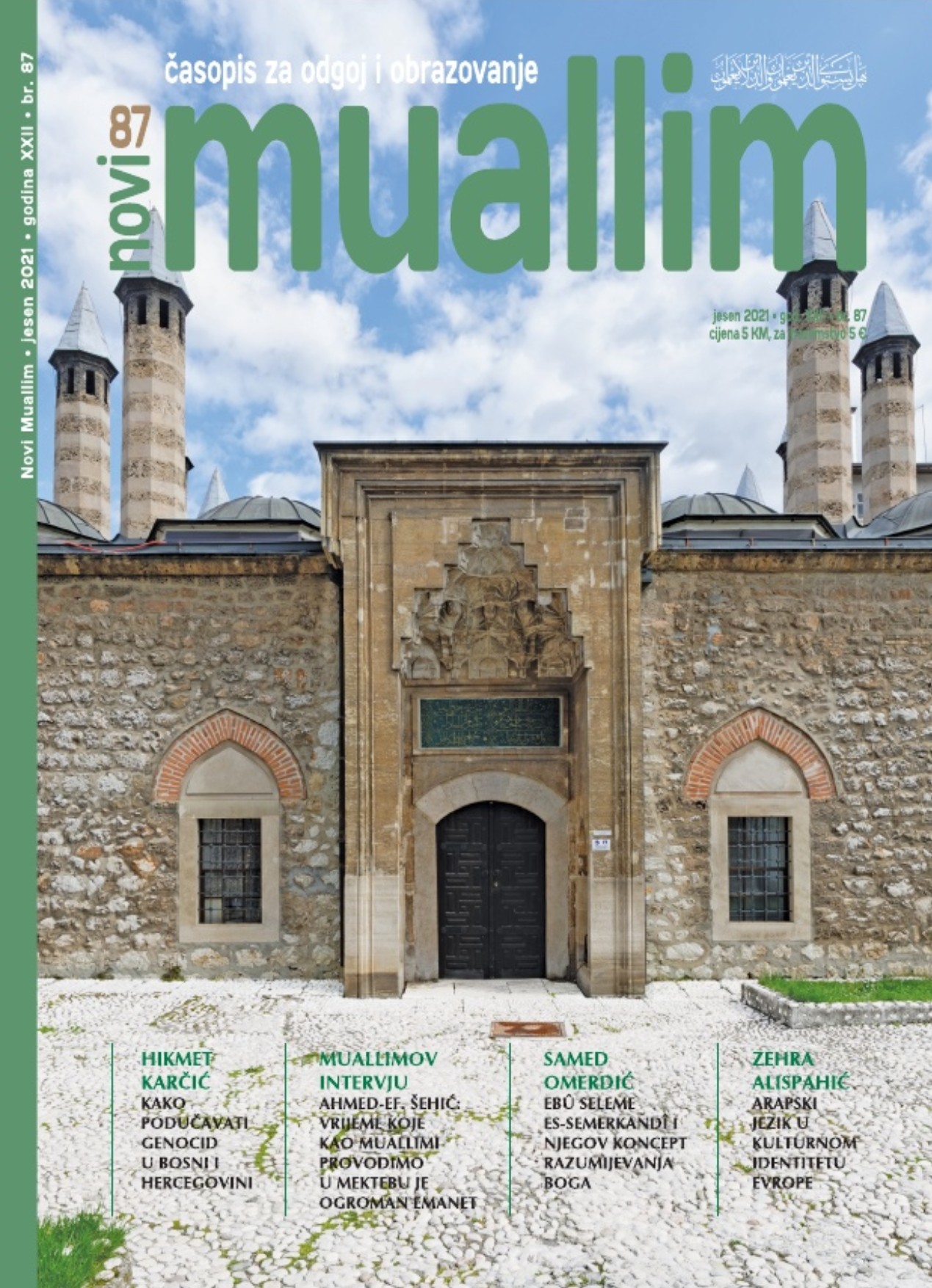 Downloads
How to Cite
Memić, E. (2021). STJECANJE ZNANJA I POŠTIVANJE ODNOSA KOJI NA TOM PUTU NASTAJU. Novi Muallim, 22(87), 26–29. https://doi.org/10.26340/muallim.v22i87.1875
License
Naknada:
                  a. Časopis ne naplaćuje naknadu za obradu članaka (APC) i naknadu za podnošenje članaka.
Autori koji objavljuju u ovom časopisu pristaju na sljedeće uvijete:


Autori zadržavaju autorska prava i pružaju časopisu pravo prvog objavljivanja, pri čemu će rad jednu godinu po objavljivanju biti podložan licenci Creative Commons imenovanje koja omogućuje drugima da dijele rad uz uvijet navođenja autorstva i izvornog objavljivanja u ovom časopisu.
Autori mogu izraditi zasebne, ugovorne aranžmane za ne-ekskluzivnu distribuciju rada objavljenog u časopisu (npr. postavljanje u institucionalni repozitorij ili objavljivanje u knjizi), uz navođenje da je rad izvorno objavljen u ovom časopisu.